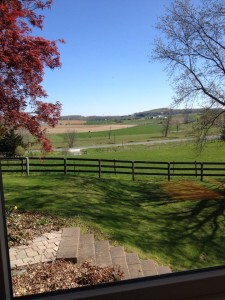 Got married, bought a farm. No big whoop… okay really huge whoop.
My better half and i tied the knot a a few weeks ago and then 2 days after the wedding we closed on the farm. Its been exciting and stressful all rolled into one. Moved into the farm a few days ago and i'm spending time putting my new gorgeous house all together. 8.5 aces, 3 stall barn 2 fenced pastures but i'm not moving the ponies. They are going to stay at the eventing barn where they are flourishing. My fields are being hayed this season and my share of the hay is going to be put up with the ponies so not only do i not have to mow 8+ acres but i get hay out of the deal. Winner!
My barn needs a little work mostly some elbow grease and some stall matting and leveling. I'm also going to need to work out my composting and storage situation. Plus  i have big plans to build an outdoor wash rack. So there are some long term and shot term goals with the barn. Its a fall project for now, im in no rush.
Jezebel is doing great in her rehab! So much so that there are some show plans for her in the works. She's looking really gorgeous and getting many compliments all over the farm. Shes fit and getting fitter every day. Circe is doing much better, shes sound on her sensitive hooves and is working though her spooking issues but shes still spooking too much for me. Shes took a giant step backwards with that this last year and its just going to take time to get her back to where she was. Both Sammy and Kaitlyn have ridden her i have not. Mostly because ive been way to busy with wedding plans and farm buying plans and moving plans to put in the work with her and frankly this is what i paying the big bucks for so i don't have to take that injury risk with a spooky horse. A sweet loving horse but spooky none the less.
All 4 horses are on night turnout and they all go out together now. My girls, Mr Rep and the cutest pony known to man. Reliant little pones, all of them.