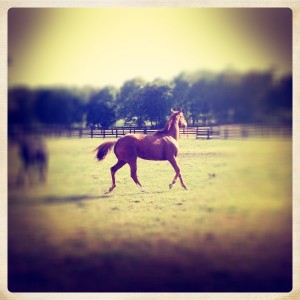 Circe began life as Syllogism a 16.1 chestnut mare who raced at 15 times. She won 2 times, had 3 seconds and 3 thirds for total earnings of 47,590. Foaled in April 2007, she sold at the weanling auction for 25k, the yearling for 36k and again as a 2 year old for 25k. Her first race trainer was Doug O'Neill out in CA where she came in 6th. She was claimed a lot and never spent too much time with one trainer/owner. She was just not competitive enough and was retired sound in 2012. She was returned to After The Races twice after adopters had financial difficulties, then I took her in. She's incredibly sweet and well behaved. A real doll baby.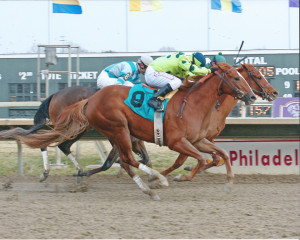 Her Sire is Include who is by Broad Brush (Jez and her are a quarter+ related) She's a lanky girl with a lot of fetlock action and the color of a kissed sunset in Hawaii. Shes also a cribber.
Circe is named after the enchantress from Homers classic book The Odyssey. She casts a spell on Odyssues' men and turn them into swine (because that what they are on the inside). Then there's this tidbit… The "Circe effect", coined by the enzymologist William P. Jencks, refers to a scenario where an enzyme lures its substrate towards it through electrostatic forces exhibited by the enzyme molecule before transforming it into product. Where this takes place, the catalytic velocity (rate of reaction) of the enzyme may be significantly faster than that of others.
If i ever decide to show her, i will show her under the name The Circe Effect. Cuz thats totally cool. Circe is listed on the Pennsylvania Thoroughbred Horsemens Association (PTHA) website, because she's awesome!