After The Races.
Yes, I'm partial as this was the group I adopted my ex racers though. However they are an amazing group doing great things for OTTBs. Partnered with PATHA (Pennsylvania Thoroughbred Horse Association) After The Races re-habs and re-homes ex racers that come to them though several tracks including the Philadelphia Park program Turning For Home.  where my two horses came from. hey have a great farm in Nottingham PA and the program director Bonnie McRae couldn't be nicer or more knowledgeable about OTTB's. She works hard to rehabilitate, find loving homes and second careers for the ex racers that come though her program. Its an organization well worth your support.
Website: http://www.aftertheraces.org
Facebook: http://www.facebook.com/AfterTheRaces
Tumblr: http://aftertheraces.tumblr.com
The Foxy G Foundation:
Dedicated to Creating a Brighter Future for Homeless Animals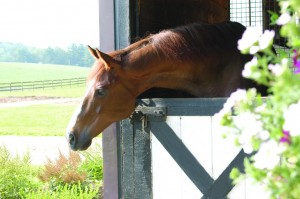 The Foxie G Foundation was established to honor the memory and enjoyment of life of a phenomenal racehorse named Foxie G. Horses coming into our adoption program are evaluated, given time to let down or have their injuries heal before being placed in a permanent home. They have received a approval determination letter from the IRS and are no longer in pending status. This 501(c)(3) corporation provides rescue, rehabilitation and rehoming for Thoroughbreds, whether off the track or not. Through a permanent retirement and adoption program these horses are given the opportunity to find new homes and often a new career.
Facebook: https://www.facebook.com/TheFoxieGFoundation
Website: http://www.thefoxiegfoundation.org