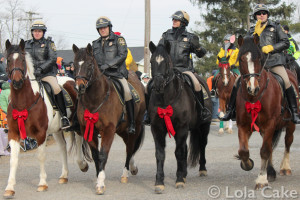 What can I say about the Lisbon horse parade. Its billed as an "old fashioned horse parade" and they sure aren't kidding. Especially if by old fashioned, you mean before organizational skills were needed in setting up a horse Christmas parade. That doesn't mean it wasn't wonderful and amazing because it was in fact both those things but it was also a mess. A hot, hot, mess.
Maybe 500 horses were in this parade. Mounted police (the only police presence at the event I might add), eventing farms, horse rescues, the Goshen Hounds hunt club, local schools and so much more participated. It was a spectacle and being that the weather was good (last year it was rained out) and by good I mean it wasn't raining or snowing but it was about 35 degrees out, lots of people showed up… thousands in fact.
We arrived early because Alex and Luna were riding in the parade. Luna loaded like a dream because shes the worlds best pony and being one of the later groups we unloaded on the road. Yeah you heard me right ON … THE… ROAD…. The trailer parking lot (a giant cluster-fuck of trailers) all on top of each other in one big pile was full so the overflow parked on the road and unloaded there. Sammy, me, Alex, Sammy's 3 year old and my better half all worked together to get the pony brushed, saddled up and decorated for the parade. Then Sammy had to literally walk with Luna and Alex in the road maneuver around traffic, over an over pass, about a mile or two to the staging area so Alex could meet up with the other riders in her group. We then picked up Sammy in the car and drove to watch the parade. We scored killer parking and ran into other people from our barn right away which had to have been divine intervention.
The parade was amazing, people were dressed up in all kinds of wacky, fun costumes. There were several homages to A Christmas Story, mule trains, covered wagons, a knight, several Santa's, lots of equine reindeer and lots of kids on ponies participating. About 90 different groups and the whole thing took about an hour. I had a blast in the freezing cold watching all the groups ride by. The kids were all ecstatic and I'm sure this event will live in their memories for years to come. Alex was beaming the while time.  There was no police presence it was as my better half put it "where amateur parade and horse people collide". Which means very little organization and safety precautions. No crowd control, and I think one port-a-potty. No one got hurt and there was no instances of horses going nutso and running into the huge crowd. Everyone was in the Xmas spirit from parade watchers to participants and it made me happy to be a part of such a fun (albeit crazy) community. My hats off to you Lisbon Old Fashioned Horse Parade, my hats all the way off!