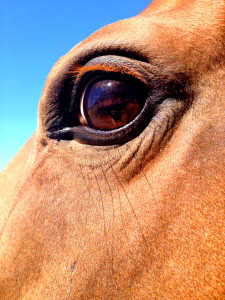 Circe's been lame for about 3 weeks now. It started with right front lameness and a suspected bruise. She was taken out of work while i waited for it to heal or abscess. It did neither. My farrier came out and Circe came off the hoof testers pretty hard but it was all over sore. It was time for the redhead to get shoes (clips, pads, magic cushion). We did that and hoped with a day or two she would be better. She wasn't. The day after the shoes went on a lump appeared on the inside of her right leg, below the knee. There was heat along with swelling. Ice, poultice, wrap for a couple days. No change in her lameness. I was getting pretty frustrated at this point. The general barn consensus was that she was popping a splint. Seemed to me to be a reasonable conclusion. It was the weekend so Monday I called the vet out.
My vet was on vacation so the a different vet came out. How much do i hate dealing with vets i don't have a relationship with or vets who don't know my horses history … lots. He came out did an exam on the legs/hooves and decided that we needed to do some blocks to find out where the issue was coming from. Then he trotted her out. By that i mean i trotted her out while he talked to The Jr vet in training who was with him. In fact he spent a lot of time speaking to her not to me. He blocked the hoof. To be truthful he tried to block the hoof but only blocked the outside and didn't fully block the inside. I trotted her and he said she was 80% better (i didn't get to see this sine i trotted her out though she still looked lame to me from what i could see) he declared the issue in the hoof, pulled the shoe and took X-rays to rule out pedal osteitis, demineralization (thinning) of the pedal bone. I held my breath while the 3 x-rays were taken.
They didn't show pedal osteitis. He was going with deep sole bruising and said she needed an egg bar shoe on that foot while the bruising healed. I asked him about the heat and swelling in her inside front leg. I was told it was just her compensating for the lameness and it wasn't anything to worry about. My farrier came back out that evening and put on a straight eggbar shoe with a thicker leather pad. She had some slight improvement on trotting out but nothing along the lines that i had hoped for. I decided to give it a day or two and see what happened. The next day she wasn't better and i was getting more and more worried. Worried about the heat and swelling on her leg, the fact that i wasn't seeing any improvement in her lameness and i started to second guess everything and everyone. I began to think i was dealing with multiple issues with my beautiful red-headed mare. I started to lose sleep. That evening Sammy and i took Circe to the indoor with the very soft Equicush footing and trotted her out. She got worse. Worse on soft footing screams soft tissue injury.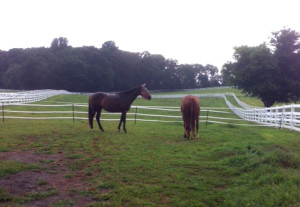 The next morning at 8am i called the vet. My vet was home from vacation so waited the day for the return call. She was able to get back to me end of the day and we discussed my horse. I told her i wasn't happy with her lack of progress, that i was worried about the heat and swelling that that ignoring t was no longer an option for me (in fact i had been icing it like a mofo) I explained the worsening lameness on the soft footing and that i really wanted her to come out and reexamine Circe. She told me she was going to call my farrier and discuss and get back to me the next day. Which she did and we made plans for her to come out on the weekend.
I brought my better half with me so he could trot her out and i could watch. Sammy also was able to be there for the second half of the exam and helped out with the trotting. We started with blocks. Heel, not a lot of improvement. Pastern, some improvement. Then she did a spot block of the swelling on he leg looking for a tiny bit of improvement. There was just a touch. She was lunged on the Equicush footing in the indoor both directions and as her foot got more and more numb she was more and more difficult to deal with as she began to feel better. Next back up to the barn for X-rays. As soon as the redhead was back at her own barn she was the sweet easy to deal with mare i love and she did very well for her x-rays. A plan was put into place for Circe which includes medications, corrective shoeing  and limited turn out. The limited turnout btw means i needed to buy and install an temporary fence and portion of my paddock and by me i mean my better half. If doing that didn't prove how much he loves me nothing will.
Circe is popping a splint. Its a mild but you can see it on the X-rays. She's laying down new bone. So ignoring the heat and swelling was the wrong thing to do. Good thing i didn't do that. I will be icing and surpassing the leg until thats healed. Its unclear how much the splint is contributing to the lameness but it is contributing.
There is something going on in the hoof though its not conclusive. It could be a bone bruise, deep sole bruising. The vet spoke to my farrier and between them came up with some options. My farrier who by this point is a saint for coming back out a 3rd time (and on a damn holiday) meet me at the barn at 7:30am to try some things and see what worked after going though putting different things on Circe. The only thing that gave her any relief and eased the lameness was aluminum eggbar wedges (2 degrees) and a hard rubber pad also at 2 degrees with nothing underneath to put any pressure on the sole and some silicon at the heel to try to keep any debris out. Her alignment was off (you can see that in the X-ray too) and this not only fixed the alignment but keeps any pressure off the foot so whatever is wrong in there can heal.
When my farrier and I trotted her out Circe had a more improvement then i've seen her have since this whole saga started. Less head bobbing and not every step was bad. Now i wait. Circe can be ridden at a walk in straight lines for up to 30 minutes now that we have something that works on her and continue with the limited turn out. This will go on for 4 to 6 weeks.  So she should be good to go as soon as the weather turns horrible. Ugh.  I'm  just am happy i have a path forward with her as i love the sweet redheaded mare to pieces and want her happy and sound. All this will cost me a fortune (the temporary fencing was 250 bucks alone) add in all the x-rays, corrective shoeing, medications and the stress and strain i put on everyone close to me while i was worrying about my horse. the cost is not just money but emotional strain as well. Thats what happens when you love horses though, its just how it is.