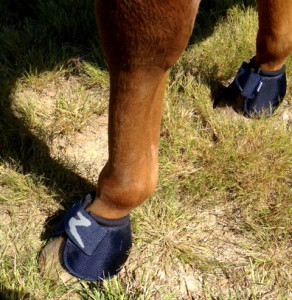 When the good folks over at Horze.com got in touch and asked me to review products for them I was pleased as punch. I love reviewing stuff. When the items showed up i was rearing to get to reviewing! They sent a couple different things and i will be giving my thoughts on them in separate posts (still need to test out the second item) Though the items were provided, I always tell it like a see it. It's how I roll.
First up is the Horze No Turn Bell Boots. I really, really, needed bell boots because the Redhead just got shoes. I've had her barefoot for almost a year and always knew at some point shoes were in the cards for the thin soled mare. With the lameness issues i've been dealing with (post to come later) i was very happy to try these bell boots as my horse currently has two different kinds of shoes on the right and left fronts.
Pros: They look great and mine are in a nice blue color. They're not to bright like a royal but not too dark like a navy. Lets call it navy light. These are no turn bell boots and the Velcro is a nice, thick and has two strip and heavy duty. Just what you are looking for when you have bell boots because they get a lot of abuse being in the hooves. I got the Full size and they were a touch big on her but with the Velcro closures you can make the adjustments you need to.  They come in sizes Pony, Cob, Full and XF and the cob would have been too small for her. They looked really great on my chestnut mare.

Cons: Sadly my horse pulled a shoe the first night I used these bell boots. She pulled the eggbar shoe and it was laying in the paddock with the leather pad still attached. The regular steel clipped shoe on the other foot was in tact.

Lowdown: I had really high hopes for these no turn bell boots so I was really disappointed and sad that it didn't work for me (I almost cried on lone single salty tear when I saw the pulled shoe). They look good but they didn't perform. Lets face it you want cute bell boots but they need to work as well. You cant just be pretty. If you regularly use no turn bell boots with success and have a horse that doesn't often pull a shoe they might be worth checking out as they look really good and are of strong construction. If not, then you might want to pass on the Horze No Turn Bell Boots.