The girls are being ridden all the time now. They have an actual schedule. It has only been half a month and 2 little weeks into the move the girls are digging in and getting to work.
Sunday: Michelle – Monday: Me – Tuesday: Sammy – Wednesday: Michelle  – Thursday: Me – Friday: Sammy – Saturday: Me
Only I'm not really riding both yet. Ground work… yes but getting back in the saddle will be a little bit of a work up to it thing for me. I am cooling out Circe after her rides with Michelle and riding her back to the barn this week and then next i'll start riding her on my own. Jez is being re-started really slowly and because of the rearing i'm not getting on her …yet.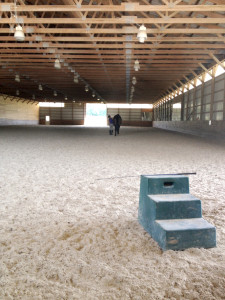 They have both been ridden in the indoor and the gymnastic ring. Jez is definitely testing Sammy being headstrong and bratty but Sammy is in charge and Jez is learning to accept that. She hasn't gone up on two legs yet at the new place, threated to yes, acted out some yes, but so far all fours are on the ground. Jez was really good for Michelle yesterday. Walk, trot, halt with lots of direction changes and transitions. Jezebel actually looked like she was happy being ridden for the first time in a long time. She hasn't been asked to do anything hard yet but just remember that she is actually a riding horse for about 20 minutes.
Circe's been really good, walk trot and canter. Her trot work is really coming along and her canter work is getting balanced though she still has a ways to go. Getting on her felt weird but good. Its funny how being dismounted for 3 months (yeah, i counted) can screw with ones confidence. I however have decided to employee the fake it till you make it technique. I'm am beyond thrilled to see the light at the i can actually ride my own horses tunnel.
So far I'm really enjoying the new place. The facilities amaze me every time i use them (hello equi-cush footing!), my barn is calm and happy and my horses are too. I just like being there which is a big step forward from the crazy town and bad juju i vacated.