I didn't anticipate it going so slow. Moving the girls has caused us a few set backs as i expected and a few curve balls i didn't expect. Getting Circe across the street and over to the ring has gone just dandy. Getting Circe to work and not lose her mind across the street in the ring has not gone dandy. Getting Circe back home across the street has been real hit and miss. Basically Circe has been challenging the entire first month in the new place. With being in heat… a lot and her natural sensitivity to everything always it makes things difficult. I start to lose my cool and that in turn makes the whole thing a giant mess. She's so sensitive that the smallest of corrections is all she needs and i have to not get upset, at all. If i start to get nervous she loses her mind, if i start to feel stressed she loses her mind, if i am at all uncertain in any teeny tiny small way she loses her mind. Its been frustrating but progress is being made. Very slowly. Its been very slow going with the Circe Effect.
Jez is on week two heading into week three of her ulcer meds so she can start doing ground work any time now as soon as i can schedule with Michelle . Shes next up and i have high hopes that little miss smarty pants will not be as fazed by going across the street as her more red-headed sister. We will see, its all a crap shoot anyways. Towards the end of the month she will be cleared for working under saddle but i want to start her from the ground up to set her up for success as best as i can so im not sure when she will be ridden it will all depend on how she responds to the ground work aspect. When we last left Jezebels training she had put my ass on the ground by rearing like the lone rangers horse Silver.
The separation anxiety isn't as intense as it was but its still there.  Circe will still call across the street when shes supposed to be working. Though i noticed yesterday that the gelding in the field was calling to her as well. So its not just Jez, its Jez and sometimes Jax. Its something they are going to have to learn to deal with. They will likely not be in a huge herd again and i need them to be a little more independent. I need them to work independently, because as much as i wish it were true i cant ride them both at the same time.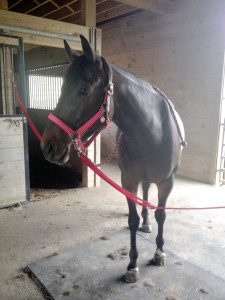 The weather is turning warmer and that means baths and surprisingly Jezebel didnt have a temper tantrum for hers last week and there is NO hot water as this place so thats really an accomplishment. She can be very pissy about water and especially pissy about cold water on her delicate horse body so i was wildly impressed that when she was all covered in mud she took her bath very well and it was chaotic that day at the barn, extremely chaotic with a lot of stuff happening so double kudos to miss Jez!
I'm just trying to take baby steps and keep moving forward which isnt easy because im impatient and often want to do things in my time not "horse time" its a constant struggle but i'm learning a little more every day.