We finally got saddle number two. I went back and forth on what to get because i really want a dressage saddle and i really like expensive saddles. But with moving the girls and all of Jez's new medical bills money's not as free flowing as it usually is. So looking for something lower end and used was in my future. Because this saddle is really my better half's saddle and even in the best of situations he will be a weekend rider we couldn't at this time justify something pricey.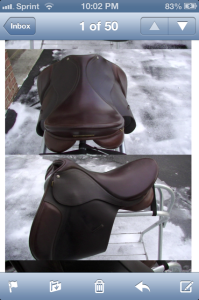 As luck would have it a women at my trainers barn was selling something that Michelle thought might work for me/us. A used Collegiate Senior Event, 18 inch seat with changeable gullet. She wanted 400 which is about right for those saddles, not a super deal but not a rip off either. When she sent over the photos i decided to give it a try as this saddle was in almost new condition! The trick here is to get a saddle that fits the horse (Circe) and then my better half. Think 6 foot tall man with a long leg and then me 5'9 and picky as shit about what i ride in. Good times. First up we tried it on the horse. The fit was pretty good, it cleared her shoulders, withers and had a lot of room in the channel. No bridging and just about even. I would say just looking at it on Circe that maybe the front flocking needed to be adjusted just a touch. Then i rode in it and it fit me pretty well, being an AP my stirrups were longer then i normally ride in them and posting was hilarious cuz clearly i need to work harder but the fit was pretty good with me. Then my better half rode in it. The fit wasn't bad on him either we took a long time watching him ride around to make sure it was alright because asking a new rider how does that saddle feel will get you not much of an answer. They just don't have the experience yet. Then Michelle rode in it for Circe's session and then you could see there needed to be a little adjusting as she was putting Circe though her paces. I will likely get a shim-able half pad for now until i get the fitter out to make this saddle perfect for the redhead and the boyfriend. Yes, that means we bought it.
So thats done  and was relatively painless, except for the part where I need to buy 67 inch leathers and stirrups for the boyfriends saddle. Yeah, not too many people make the 67 inch leathers in brown. Passier does and so full price i will pay. When i sent my better half to the SmartPak website to look at stirrups he of course picked out the Herm Springer Bow Balance ones. Um thats not happening just yet. Id actually like to get them before i get all crazy and buy them for the better half.  He does have excellent taste though! So now i can obsess about all the things i can get HIS saddle cuz thats how i roll. He will be the best outfitted weekend horse husband in the group… thats for sure.