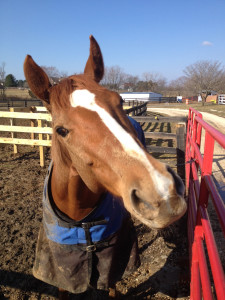 With only a few days left until i move the girls i'm starting to get excited. My better half and I went to the new barn to start setting some stuff up. My commercial shelves (24 inches deep baby!) Circe's stall needed to be cleaned and all her hooks needed to be put up. Jezebel's stall wont be vacated until the end of the day on the day before i move her. We will go out early  on moving day to get her stuff ready. My new Barn mate was there and she and i worked out some logistics of the move and she will strip down the stall shes leaving (shes moving over one) so we can get in and get out on moving day and then just move um in, hopefully quietly and easy with M's help. It was a longer day than either of us expected, the shelves were a real bitch to put up but they look great. Of course i didn't take pics cuz i was just to busy IE i forgot. Derp. I couldn't do much in the tack room as its not vacated yet but i was able to make plans and unpack some stuff that will fit in the main locker. I will have two lockers and half the room. One of the bonus of having only two of us is we just divide the space in half and let me tell you.. TONS of space!
I spent a little time getting to know the barn cat that mostly lives in our barn. Hes adorable and i was told loves to catch birds.. um come on kitty its mice you want! His name is Dash and he and i will have a conversation about mice as we get to know each other. He also talks which i totally love, usually its the males that are real chatty and he fits the stereotype.  We all will be expected to pitch in for the care of the barn kitties, there are two (both barns) and they seems to be a bit pampered for barn cats. I'm all for a little extra in the cold months but barn cats need to earn their keep and i will bring up my thoughts at whenever the first barn meeting i go to is. I'm happy to pitch in for food and vet care but i want Dash and Sasha working for that keep! Catch mice kitties!
After a long day of fixing up the new space we headed on out to explore the area AKA look for food (I will search for a Starbucks soon enough because i need my god-damed Starbucks) We found what i thought was a little sushi shack in a strip mall. It was actually a fancier sushi place then i expected but we went anyways, dirty boots and all. It was pretty good for the middle of nowhere sushi. In fact the presentation was above average. So they will get a second go at another time, maybe when my boots are less dirty.
All in all i'm less nervous about moving and more excited about moving. The scales are being tipped in the its going to be good to move direction. The more time i spend at the new barn the more i'm sure moving is the right thing to do.