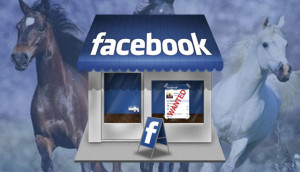 My latest obsession has been buying and selling tack on Facebook. Yeah you heard me right Facebook. I dabbled with Ebay but honestly i put an item up and got pretty much zero views even though it was tagged properly and the right categories it just wasn't getting any eyeballs. Then i stumbled onto the tack buyers on Facebook. Huge groups of horse people all buying, selling, trading tack. Buy huge I mean thousands and thousands of people, totally a micro niche. I watched the groups for a while to see how they were run. Some are more of a free for all a "make me an offer environment" others are for specific kinds of tack like western or english only or just blankets. Some are heavily moderated with a long list of reasonable rules, some are the wild wild west. Its actually kind of fascinating.
I started with buying. I found an all leather lunging cavason with brass fittings that looked lovely and i bought it for 35 bucks. The retail on this thing was over 120 new. Its used but in amazing shape though i think it might be too big for my girls. Well see when i take it down to try it on them. Its horse sized but big. That of course is the risk you take buying online and from a group on Facebook. If it doesn't fit i will just try sell it for what i paid for it and try again. I also bought a M. Toulouse leather girth to match my MT saddle. It hasn't arrived yet but the nice girl i bought i from (for less then half the price new!) sent me a picture of the tracking number on her postal receipt. Wicked cool way of handling that, so much better then typing out the number. Of course theres the typical people pricing out their used items for the same price of new, theres always gonna be that person but for the most part people are reasonable in the prices they want for stuff. You have to keep a good eye out though because the really good deals go fast, in a blink of an eye and most people employ the first come first to pay rule.  Also the group I find i'm the happiest with has a "no pricing police" policy so theres not really people getting all pissy about how someones prices are too high or posting links to other places to buy the same item. So that keeps the drama to a minimum, though it does sneak in from time to time. Another great feature is the ISO post, that IS a free for all. Post you are looking for item A and you will get responses in the comments and if someone says i don't have that exact thing but i have this other thing thats close other people can make a deal on your ISO thread. Ha! You can watch the deals go down and watch your ISO thread turn into a tack trading fright train.
I then jumped into selling. I took some snaps of fly boots, a shirt and some breeches and let me tell you within an hour two of my items were sold and they money was in my paypal account. Granted they were really good deals, i'm sure i could have held out for a few bucks more but im not greedy just looking to get move some unwanted horse stuff taking up room. All and all its been really fun little pastime with the weather being so terrible and all. I listed some girths, a hay net and i have some saddle pads that have been sitting in the overflow tack trunk in my basement for a year now… I mean why wouldn't i want to get rid of that stuff so i can make room for other new bright shinny stuff. Its a little slice of tack trader heaven.