Since this is the first year i don't have an indoor and its been the coldest winter on record for my area in 20 years, so i decided to get the ponies some quarter sheets for those really cold days. Im trying not to miss any riding days just because any one of us might be cold. I loved the colors of the Cavalero Exercise Sheet by Moxie so i splurged and by that i mean i bought it on sale, because i buy almost everything on sale. Its a sickness. I got the large which was rated to fit my 16+ hand OTTBs. Boredeaux and gray for Jezebel and i wanted the navy and camel for Circe but i couldn't find it in her size. So the girls were just going to have to share the one. I cant ride them both at the same time anyways (yet…ha!)
Pros: This is a beautiful exercise rug. Its top quality and the underside is of a fleece like material that feels so good i'm considering getting a blanket by them as well. It fits true to size the large fit my girls just as it was supposed to and it's just stunning out of the package. The colors are muted and almost look matte. Which gives it a little more class then if they were loud and bright. Very classy little rug for a really good price. I bought mine on sale for somewhere around 40.00 but they retail at 64.00 If i can find the colors i want for Circe i wouldn't hesitate to by it at off the rack prices.
Cons: The only con I have it they didn't make enough of these and they sold out in the large too fast.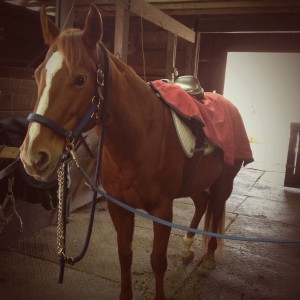 Lowdown: If you want to give your pony a little extra warmth in the winter riding months but don't want to go full out with a super expensive all wool quarter sheet, I'd recommend the Cavalero Exercise Sheet by Moxie. Its classy on the outside with a rather awesome color selection (when they are not sold out that is) and they feel like your favorite fleece lined hoodie on the underside. Both of my horses wore them and never complained, not once. That is saying something.