I met up with Tina early. The plan was to get out on the trail before the snow hit. It was cold. I was wearing all the cold weather stuff.. i mean all the stuff
SmartPak's SmartShape Base Layer Tights. I got them on sale a while back and had yet to try them out. Over those i had on the Kerrits Power Stretch Winter Tights. For socks I had on sock liners and Smart Wool crew socks from REI. I hate spending that kind of money on socks but my feet were toasty at least for a while. My boots were my Ariat paddock boots. No half chaps, i own several pairs i never wear them, i just collect them i suppose.  Moving on up to the top of me i had on the SmartPak SmartShape Base Layer Crew Neck, which I also got on sale and is now out of sock, a regular Tee-shirt and my jacket from REI with the bright blue Muppet fur on the inside. I scored this on the clearance rack for about half off, so it was only one arm and not a leg. (freaking REI). I wore my ear muff head band thingy under my helmet. For gloves i ride in the Roeckl Winter Chester Riding Gloves. It hurt because i didn't buy them on sale and they ain't cheap, but my fingers are always warm and with the hand injury, my left hand can get pretty painful in cold weather.
Tina also dressed like a snowman and I tacked up our girls and headed out. Jez was up and hot the whole trip. Not unmanageable, happy to be out on the trail but really very up. We rode along the fence lines of neighbors until we got into the woods. It was a fun ride, both girls were behaving for the most part. We got all the way though the woods and out  to the first street crossing, i considered just going for it even though the street is a busy one. But then the trucks came and Jez had a little baby spook. Cantering in a circle. Ugh. I brought her right back but i decided not to attempt the crossing. I want to take her across when i can sandwich her between two solid calm horses. I don't know if that plan will work out since Tina is the only one i go out with so i'm devising another plan for street crossings that involve a different street thats closer and some hand walking etc.. its still in the works but i'll get her traffic safe soon enough.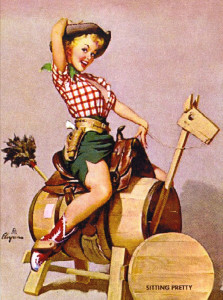 We decided to head back and took a different loop around though the woods and ended up at the big hill. Its really kinda a big hill. Tina asked me if i was up for it and what the fuck id give it a go even though it looked super steep from where i was sitting. Tina went up first and half way though Sabs needed momentum to get up and started to canter. Jez and i were behind and then Jez needed the momentum so i let her do what she needed to get up the steep hill. The footing was dicey in a couple of places and we slipped some but hot dam if she didn't get my ass up that hill and not freak out. She was happy and i was safe, thats a win/win. I looked behind me and that angle is freaking steep as shit. So we continued on and went back out the woods and then on to the farm. Jez crossed some deep puddles that were covered with a thin sheet of ice, and happily walked though mud holes. (whose horse is this?!) back at the farm we decided to ride in the ring some since our trail ride was mostly at a walk. My feet were pretty frozen at this point but the rest of me was warm and not feeling the cold. It was a good ride and both Jez and i had fun. I was having so much fun that i forgot to take pictures of anything. Doh!
Good thing we got the ride in early because as i was getting ready to leave the barn it was flurrying and my farm owner was pulling out the heavy weights because the next days high was predicted at 10 degrees or something and thats with out the wind-chill factor. And snow it did, all evening and into the night theres about 6 inches sticking out there right now and the wind is blowing bringing it down to feel like a toasty ZERO degrees and who knows when i will be able to ride, its going to be this cold all week and everything i'm sure is frozen solid at the barn… so I'm not even moving from this spot… nope ..nope …nope.