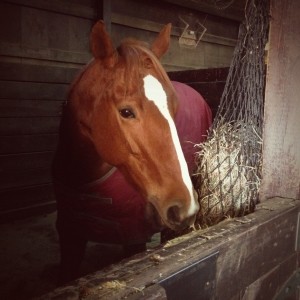 She was lame when i pulled her from the field. Mary (Willa) was helping me catch my ponies because my trainer was going to work with them both and i was running late. (Go figure) i could see her stepping short on the right hind. Nooooo! Not the right hind! Okay this wasn't Jez but Circe, but the right hind freaks me out because i just spent be better part of 2013 re-habing Jez on the right hind. I brought her into the barn and checked out the leg. No heat, no swelling, not cuts, no scrapes, no reactions to any palpating, no nothing. When Michelle showed up she rode Jez then we turned out attention to Circe. We tacked her up and Michelle walked her on a lose rein. She looked short to me still in the right hind and Michelle could feel it. Decisions, decision, should we try to work her a little and see if she works out of it or put the mare away. I decided to put her away, give her some bute and see how she was the next day. Day two, still lame. Not as lame as the day before but it didn't get worse. I gave her bute, soaked the hoof and kept her in with instructions to keep her in the next day. I called my farrier who was going to come out the next day (A Sunday her day off, have i mentioned i have the best farrier in all of Maryland? cuz i do) and put the hoof testers on her.
The hoof testers reveled nothing and my farrier said it was unlikely she was blowing an abscess. There was no localized spot that was bothering her on the hoof but she was kind of all over sole sore. She was turning well and my farrier said she was just barely lame on the right hind. So more improvement. I showed up to the barn end of day and gave her bute again with instructions to keep her in another day. Mary who owns Willa said she saw some horses in the mare field running around like idiots the day Circe came in lame and and one when down in the slippery mud and she thought it was mine. Of course it was mine.
Yesterday when i got to the barn in the AM Circe was in the field, i brought her in and she looked fine. Not short on the right hind, walking sound. Hazar! I didn't bute her but i kept her in for the rest of the day just for good measure. The field is a muddy slippery mess and id like to set her up for success. Im going to chalk this all up to a strain, or a sore foot from the frozen ground. She'll get regular turn out but a few days off for bad weather and then back to work for Miss Circe! Oh and this while thing made me rethink not getting her insured until the spring. I was going to do that to save on a little cash (Xmas hurt this year) but fuck that. Im getting her insured ASAP of course as soon as i do she'll never take a lame step.. cuz thats how that shit works most of the time. Eh…Its only money….