I got this from Lauren from She Moved to Texas. I loved the idea and I really love seeing everyones barns and horse living spaces! So here's mine…
Number One: A view of the barn.
We actually have two barns the main barn and the upper barn. The main barn has 10 stalls, the wash stall, a tack room, feed room and a barn apartment.  She upper barn is L shaped and has 13 stalls, a tack room and a feed room. There's another apartment attached to the upper barn. Both my horses are boarded in the upper barn. They live next to each other (which i love) and all the stalls have multiple fans in the summer and there's a automatic fly spray system for the really hot months.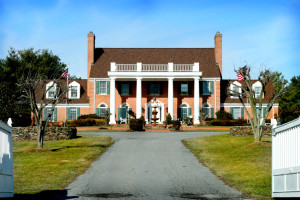 Number Two: Your horses living space
We have generous turn out. The schedule changes with the weather. They are inside daytime summer and outside daytime winter. There are several paddocks. Both my girls go out in the " large mare field" 3 horses live out 24/7 in that field and the others for a total of 9 are out half the day. Its a big field that they share with two beef cattle. Susy and Jenny. Who will never been dinner. The cows have their own run in as do the horses. The run ins also have fans and a feed room attached. The large gelding filed across the way is also similarly equipt. There are several other pastures, with anywhere from 2 to 5 horses some mixed herds some not to account for politics and not really getting along both horses and people.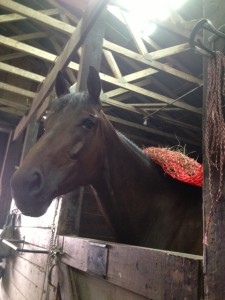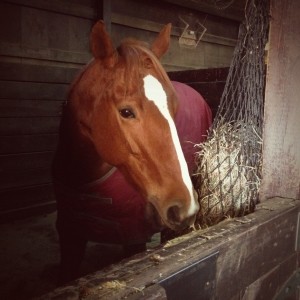 Number Three: A view of your tack room
My tack room is cool. Its got two rows of large  dark wooden stained lockers. The lockers are good sized and i have an upper and a lower ( two horses!) the upper is my better organized locker, I also keep my Marcel Toulouse saddle in my actual locker. Lots of people don't as we have a wall of saddle racks so some people elect to store theirs on the wall. Great idea of you have two and can't store your saddle in your actual locker but id rather keep mine inside as I've seen the barn cats making themselves at home on the saddles.  Even a good cover wont save a saddle from a cat making biscuits on a saddle. My lower box needs work. Right now i have all my pads and cooler and quarter sheets in there in a big jumbled mess which makes my A type brain crazy. I just cant find the right storage solution for it yet. It might be to wait until i can get a second upper and let the lower go. I also have a big tack truck (hello Stanley!)  stored at the barn for my over flow.  Theres also a couple of sheds, a feed shed and a tool shed. The feed shed has a fridge thats really for meds but Rolando the farm manager lets me put my sodas in there over the summer so i buy enough for him to be fully soda upped as well. Cuz thats how I roll.
Number Four: A view of where you ride
Right now I ride in the ring and only do the small back woods trail. Our ring is small and is sand footing thats kinda deep so when its moist its actually better footing then when its totally dry. Moist not sloppy that is. Theres a long bridle path, that goes along our property line and out the neighbors to the back woods and to places beyond ( but you have to cross a street and i haven't gotten there yet) There are also jumps set up in the lower half of the large gelding filed that you could use as a jump filed in better weather and access to the neighbors indoor,  for a small fee and a phone call ahead.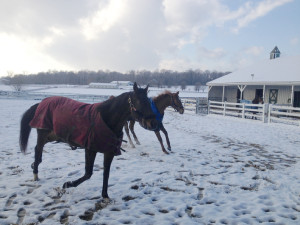 Number Five: Your favorite feature of your facility
I actually have a couple, one is how calm and beautiful everything is at this place. No annoying tractor zooming up and down the isles. The place is just calm.  I like to go and just sit and hang out sometimes especially when the weather is good. My horse is calm too, shes likes it so much better at this place. Its low stress for horses. There is plenty of hay, i never have to worry my girl will go hungry and when the pump was out they trucked in water and never skipped a beat most of the boarders didn't even know there was a pump issue it was handled seamlessly.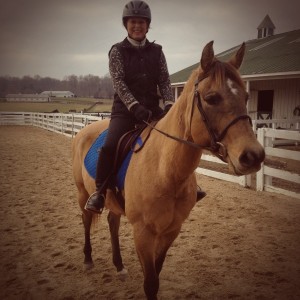 Another feature I really like that is unique to my place is the farm owner. She really cares about the horses. Each and every one she personally watches out for. She doesn't just provide care, she provides love. Shes a lovely women who i have gotten to know over the last 6 months and have become very fond of. Shes got her quirks just like the rest of us horse freaks but to me those quirks just makes her so much more fun to be around. I really enjoy talking to her about horses and life. She's made me feel very welcome and nothing beats getting a text message from your farm owner when you are laid up sick letting you know she found a pink heavy weight blanket for your horse to use in the sudden polar vortex so that she will be able to be dressed warmly in her own colors! Now thats going out of your way for someone.
And of course my friend Tina who I've been having a blast hanging out with and riding with. She makes me laugh and shes brave as shit. Shes got the kind of attitude i really mesh with when it comes to riding. What ever happens she just rolls with it and its always fun. If she sells her horse (she's thinking about it)  I'm going to miss her most of all scarecrow.
Let me see your barn… share the following 5 photos!
A View of the Barn
Your Horse's Living Space
The Tack Room
View of Where You Ride
Your Favorite Feature of Your Facility