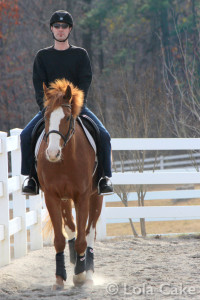 Stuff has been happening even things besides me bitching about the cold a tradition with me as soon as it gets below 40 on a regular basis. Interesting stuff, boring stuff and of course the daily grind stuff. Rep was hauled back up to New Bolton for his eyeball recheck and the results were giant big two thumbs up! He is healing great and that makes me very happy. My better half is happy too because hes been unmounted since Rep's eye took a turn for the worse right when they were of course really doing well cantering around and doing walk trot transitions and poles. In a couple weeks Rep can get back into work and begin to be brought back after his time off. We hauled him up in my brand new shinny trailer (woot!) Im so happy i bought it because it sure makes life easier. Let me tell you theres nothing like traveling with kids. Adorable as they are they are bottomless pits when it comes to food and they have to stop every 45 mins for potty breaks. Our trip was long but it was worth it.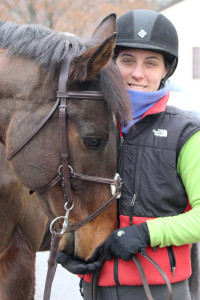 A new horse came into the barn for training. Rigby! Hes a 10 year old OTTB. He's real easy to handle so far and went out on his first training ride with Sammy. Hes pretty out of shape as he's been sitting in a field for a while but hes real cute and i predict that hes gonna aces in no time flat. He's a high withered fella and after 3 saddles tries (his is still back at his old barn) we got the collegiate sr event saddle on him with a half pad. So now we have to geldings and two mares (pony Luna moved to a different barn on the property) My girls are very interested in the Rigster and have been making googley eyes at him over the fence. Well Jez has as Circe is a lesbian horse. For reals! Jez though is boy crazy and she thinks Rigby is handsome. Probably because hes an Argentinian OTTB and those Latin types all all swoon worthy.
The working student is really starting to shape up and shes been riding Circe (Jez is still on a break) She took her on a hack and rode her in a lesson the other day. It was fun to watch Circe be a lesson pony. She did really good, well the both did good. I'm looking forward to more time with the working student, she seems to fit right in with the team. Michelle's been giving Circe some time too which is great because the red-head needs to get back into shape. Id like to get her back to where she was before her feet exploded by the end of the winter. Totally an attainable goal. Circe prefers to ride outside shes not all that thrilled with the indoor right now because there are jumps in it for the winter and her brain can not comprehend WHY there are jumps in the indoor! They do not belong there! So on weather permitting days she rides outside and on bad weather days shes going to have to get over the whole jumps in the indoor thing. I'm sure she will, just in time for spring and they jumps to go back outside.