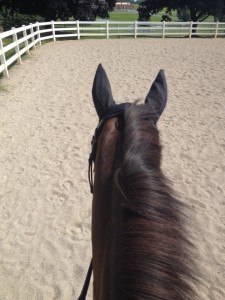 I've been riding Circe but i haven't been riding Jezebel. After she out me  on the ground last Feb and was acting out so badly i gave her the rest of the winter off to figure out what her deal was. Ulcers.. hind and gastric was the diagnosis and since that time we've teated the ulcers and moved twice Jez is back in steady work with both Sammy and Michelle. Since i've moved to the fancy eventing barn I've been on her one time. After Michelle rode i cooled her out and was super nervous. Which pissed me off, i haven been nervous like THAT with her before. As a result i've been sticking with Circe working on building my stamina (which sucks) after every ride my confidence growing. Jez has been good for both trainers and though shes got her pissy moments all four feet have been staying on the ground except for when shes been asked to jump, which shes been really enjoying.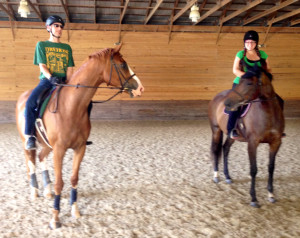 Today the better half had his lesson (he's taking them with Sammy on her event horse Rep) Usually i tack up Circe and ride around while he takes his lesson. Today i decided to tack up Jez. She's been doing really well and i'm getting really sick of being nervous about riding her so i employed the WTF strategy. If she was terrible id jump off and try again another day. I tacked her up and after a fight over tightening the girth i mounted and rode her up to the upper ring. A Jumping lesson was just ending so i had the whole place to myself i was surprised at how not nervous i was. The plan was to just walk around, get comfortable, be successful . That was my plan Jez's plan was to walk around, trot around and see if i would let her jump out of the coop. I agreed to the trotting but not the jumping. So it turned into walk/trot and Jez was great, not a bad step, not a spook, no pissy attitude, nada. She did so well that i decided to ride her down to the indoor where my better half was taking his lesson and catch them as he was finishing up. Which i did with out incident. Jez didn't even give me tude when we passed our barn and kept riding on down the road. She was a very good girl and i was happy with the progress and annoyed at myself for not getting on her sooner. Every one was happy to see me ride into the indoor, including Rep. The only gelding in our bunch. Him and Jez have a little love affair going so we didn't get too close because Rep can sometimes decide hes not a gelding but a stallion when a pretty girls around. Sammy snapped a photo, the first photo of me and my better half on horses together.  I then rode Jez back up to the barn on the buckle. Yeah i was being a dork before. Though i will have to be aware with Jez that she can get annoyed in a flash if i pay attention to the signs i should be fine to start riding her as much as i ride Circe.
Again i have to say how amazed and thrilled i am at their progress at this new place. They both love it and adding Sammy to the mix has been the best thing since sliced bread… seriously. My ponies love her and so do my better half and I. I have goals now and not only that i have goals i think are attainable. As soon as my stamina gets a little better im starting lessons again.. gotta be a better rider if i wanna run the the big dogs.