The text I got was glowing Sammy (new trainer) rode both girls and they both did great. Circe's didn't call out to the other horses (a habit were working on to stop) and after her work in the indoor arena she was ridden around the property. That means around the pond, to the upper barn and back to her own barn. Miss Jezebel was taken into the woods for a hack and behaved! Yes, Jez has been on the trail before but never alone and its been a really long time. I was so thrilled to hear of their progress i could barely contain myself.
Next up Michelle. Since Sammy is pushing the pony envelope a little Michelle decided to take both girls to the upper ring. Circe had been ridden by it the day before but Jez had never seen it. Jez was up first and after i tacked her up Michelle mounted at home base and rode her up the long drive and hill to the upper barn ring. This ring is good sized with stadium jumps set up. You have a really great view of the farm from up there. Jez did really well and though she was a bit distracted by all the new things to look at she did listen and was ridden for about 30 minutes, her longest ride yet. Walk and trot with transitions and direction changes. She did have a bit of a hissy fit at one point after i had  come in the ring to swat a fly that was attached to her belly that she kept trying to kick. Nasty biting flys! Jez thought that after i gave her fly relief that she could just follow me out and that she was done for the day.. wrong! Back to work. She was worked out of her mini fit in no time flat then when back to work. When she was done Michelle rode her back to the barn and the brave girl didn't even flinch. It was a very successful ride.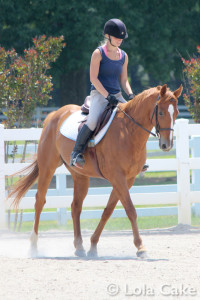 Circe also was ridden up the the upper barn and didn't even bat a spooky eyelash. Once working she was very well behaved. Even when the ring got busy with a young girl on a adorable grey pony came in to ride bareback and another trainer was using the ring for a saddle fitting. The saddle fitter BTW was the saddle fitter i use who is amazing. I chatted with her a minute and told her she was on my list of things i needed to get done. Circe was ridden walk, trot and canter. Her trot work is really coming along nicely and her canter work getting there shes getting more balanced with every ride. Once she was done working i hopped on to cool her out. This is no loose rein cool out, im to keep her working walking. Its almost like i have to learn to ride all over again because of how sensitive she is. Riding Circe is not like riding any other horse ive ever been on. My hands which have never been that smart need to get smarter in a hurry. Every movement needs to be careful and calculated with the redhead. I then rode her back down the hill to her barn. She did great and every time i get on her i feel more and more comfortable back on a horse. Maybe next time i'll get on Jez… we will see.