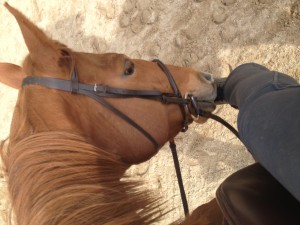 I've been riding Circe a bit as Jez is off because of her hind gut ulcers. Circe's been a good girl and even though were just hacking around and not seriously working shes doing a good job listening to me and not trying to evade contact too much. Its been fun the few days of weather warm enough to ride. I bought her a new girth with sheepskin that matches my saddle and i think she really liked it.
Jezebel is on her supplements to re-balance her hind gut and hopefully get rid of those ulcers. I bought the 300 bucks worth of stuff and made up my own zip lock packets for her to be fed two times a day. I was worried she would refuse to eat them because thats what I do, I worry. It was all for not as she loves them and will lick her bowl clean of it all. Good girl! Shes been a real doll on the ground and I've been having fun de-shedding her and playing with her.
Tina moved Wasabi and i was super sad to see her go, even though in a few weeks i'll be leaving myself. Sabs walked right on the trailer no fuss no muss and Tina has let me know shes settled into her new place like a champ. She will be out 24/7  with two other horses and i think that will be good for the compulsive stall weaver silly Sabby is. I'm looking forward to visiting them soon and Tina has said when i move that she will come visit and ride one of mine out on the trails by my new place! Yuss! One of the benefits of two is that you can have friends come ride with you. Another friend who moved a week or so ago and took her horse to a super fancy dressage barn for training also emailed me to let me know he settled in real nice and that he didn't even flinch an inch when she rode him in a huge indoor with lots of stuff happening and giant mirrors all around. She has a baby (4 year old) Arabian that she is planing on taking up the levels in dressage. I'm looking forward to watching her and cheering her on when she competes in her first show someday!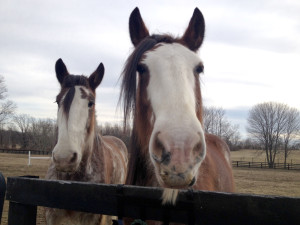 Theres been lots of flux at my barn with people moving out but we did get a couple new in. Two giant Clydesdales. They will be living out 24/7 and are the first things you see when you drive up to the farm now.  They are very sweet, i spent a little time yesterday on my way out petting them and getting to know the giant horses. I'm not sure what the owners do with them, trail ride i think but i cant be sure. Other then that I've just been preparing to move my girls end of the month. I got word as to when my hay will arrive next week and then its just a matter of starting to move my stuff over and buy the things i will need like some additional buckets, a mini fridge and all the little things that a boarding facility provides but a self care place doesn't. Its all still very exciting. When i tell people where im moving to those in the know always comment on what a great place it is. Which makes me very happy and reaffirms that i'm in fact making the right decision for me and my girls.