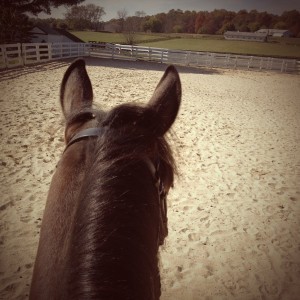 My horse is back. My lazy, half asleep "Are you sure we have to work?" horse has returned. When my trainer takes her out to work with her she always comments how Jez is half asleep. Yup, thats my girl. I really thought id never get her back and that she'd always be the wild one mare. Thats not to say she doesn't have her moments but in general shes calm and happy. Turnout with the herd has made all the difference. My trainer who is great is walk, trotting and cantering her and she's doing really well. Jez is having issues with the left lead canter. She doesn't want to pick it up. She's also cross cantering on that lead and being really stubborn when shes decided she's cantered enough. Manifested by deciding not to move at all. My trainer Michelle is more stubborn then my horse and won that fight and Jez complies now though the left lead is still an issue but its getting better.
I am not cantering Jez yet, I have however started riding her. First time I just cooled her out and walked after Michelle worked with her. It felt good to be back on my pony after 7 long months. Yesterday I lunged her to see where her head was at, then rode her. We walked, we trotted, we used up the entire ring. That doesn't seem like  big deal but it was. Our ring is beautiful but along one side is also the backyard to the house on the property. Its full of flowing fountains, gazebos and beautiful scenery. Its gorgeous, very storybook beautiful. Its also very scary for horses, lots of things for them to catch sight of out of the corners of their spooky eyes. Using the full ring and not spooking is a big deal. The far corner where the horses can hear the peacocks but cant see them in their peacock pen is the most challenging! So yeah big deal.
I'm happy to be back on my pony and i'm happy to be riding again in general. Every time I'm on horseback I'm less nervous and more at home. The fall I took when I broke my hand did a number on my head as well as my body. I think because I couldn't get right back up on my horse. If I had been able to do that I wouldn't have been as shaken. I think waiting 7 months because of your injury and your horses is a very long time to be not riding. Im happy that the rehab is behind us and now its a matter of getting both me and my pony back in shape. I'm looking forward to more time with the view atop Jezebel.