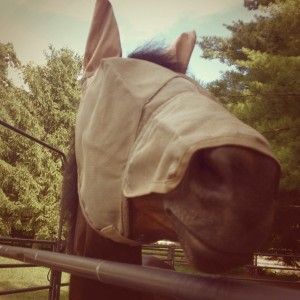 I have moved horse farms. It was sudden and very unpleasant. I was treated extremely badly by people I had always been kind, helpful and went out of my way for. It left a really bitter taste in my mouth but I was lucky enough to have a couple very supportive friends who helped me move my horse and give her a temporary home. They treated her like one of their own while I searched for a good place for her to be. In less than 48 hors after the incident my horse was in a safe place, being well cared for. Which pretty much is all that matters to me.
I drove all over Maryland looking at farms to keep my horse on. I wanted to see everything the potential new barns had to offer, the full range of options. The first weekend (a holiday weekend even) I must have put 700 miles on the car. I looked at training barns, fox-hunting barns, broken down barns, private barns. Barns that had emaculate facilities barns that had nothing but a ring with old unsafe jumps and a broken fence. I looked at them all. I noticed some things they all had in common even though so many of them were so different. They were all interested in my business. Everyone but one farm had openings and the one who was full took my number and was going to ask around for me. Also most places were less expensive than where I was coming from and not one had the nickel and dime upsell that my previous barn did. They up-sold  everything from my feed to fans in the summer. I would habitually spend an additional 100-200 dollars a month on the upsells.  Talk about a stark contrast to the place I left (which incidentally has lots of openings as well) I'm not sure why so many places have availability but im guess the economy has caught up with the horse world. People were definitely angling for my business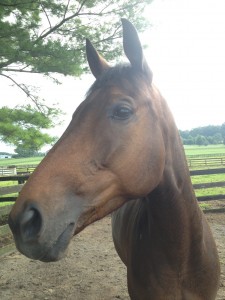 I knew after looking around the place I decided on that it was the place for me. A beautiful picturesque farm with about 24 horses, many who are owned by the farm owner. It has a small outdoor ring, access to many trails and they have a deal with the farm next door that allows access to their indoor for a couple extra bucks a month and a phone call ahead. My pony is still in rehab but come the winter months I'll be working out access to the indoor.
We moved in on a Sat and Jezebel settled right in. This whole experience showed me how amazing and adaptable she is, there wasn't an ounce of stress on her. She went places and did things she never did before. Like a step up trailer and living out 24/7 in a 24×24 area by herself where she could only see other horses across the field. She's amazingly brave and I found myself in awe of her.  Even now that she's settled into the new barn she's turned out into the hospital paddock (she's still on restricted movement). The horse who shares a fence with her, an older quarter horse mare who is great with people but has never been socialized with other horses and needs to be turned out privately is not an issue for  Jez as she is for others.  They co-exist and I think secretly they get along.
It's been a hard few weeks but the worst of it is behind Jez and me and we are both looking forward to new friends and a happy safe place for her to live. I'll never fully be satisfied until I have my own farm but until that day I think this new place fits my needs and more importantly Jezebel's needs.