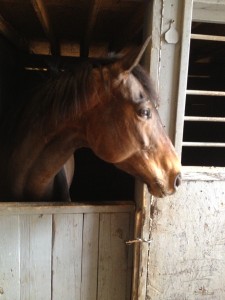 I finally got the pins out of my hand last week, that's the good news! The bad news? I can hardly move my finger, I can't bend it at 2 knuckles and my DR is likely going to send me to expensive physical therapy that I will have to pay for out of pocket. Even if I had a horse to ride right now I wouldn't be able to, cuz I cant hold the reins in my left hand. Ugh this sucks so hard. I hope eventually I will get my range of motion back but we will see.
Jezebel is progressing well with her rehab and I've been cleared to do more with her so I've been taking her out for hand grazes. Its nice to see her so happy eating grass in the sun. She so badly wants to be out of the box, i can see it in her eyes. I'm hoping after her next ultrasound i can do a little controlled turn out with her. Again that's a wait and see thing. I put in a claim with my insurance company on her injury. I didn't want to because its likely her right hind suspensory will be excluded in my next policy but i had to because horse insurance is not like car insurance. You cant just fix this one yourself and claim the next time. You have to claim. Cie La Vie I suppose.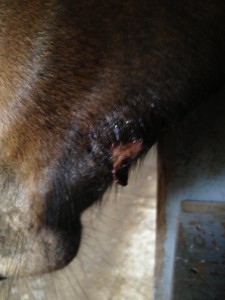 Poor miss Jez alo has a pretty bad halter rub from her fancy pink name on the nose halter. Boo! So shes now naked until it heals. I'll rig her other halter with a softie on it so no more halter rubs in the future. Shes on box rest, she should be banging herself up like this. I swear if i could wrap her in bubble wrap i would.