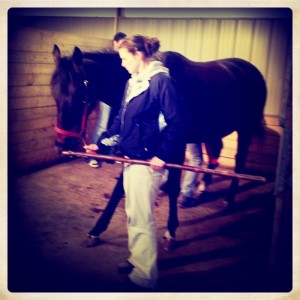 They day after I got tossed into a fence and driven away by the EMTs on a backboard and neck brace a friend was going to lunge and maybe hop on my pony. Clearly she needed some work and i am pretty laid up. On the lunge it was clear my horse was lame, not off lame. it was the right hind. Ugh. So yesterday I met with my vet. We did a lameness exam, some flexation tests, she was found to have a very sore back  and then it was decided to block the foot. Jez was being a real nasty brat and we had to twitch her to get that done. It revealed nothing she was still lame. Okay on to block the fetlock. Yeah that didn't happen my super brat was mean to the vet (kicking her) and was not going to let the second block happen. We had even aced her. Ugh!  We went to an ultra sound that is after my vet took my super obnoxious horse to the ring and gave her a good talking to "you think you're the first track horse I have encountered!!" and she made her move around her bossing my brat around with the chain over her nose. "I am allowed to touch your legs!" as she bossed her some more touching her legs and making Jez do as she was told. My pony is lovable and sweet but man when she doesn't want to be screwed with she turns into a wild beast so i was happy the vet gave her the business. She mostly behaved for the ultra sound. Mostly.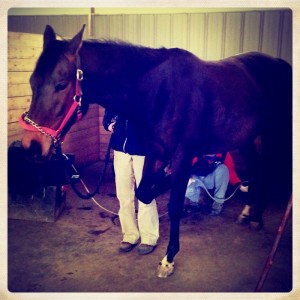 Jezebel has a minor disruption at the origin of the suspensory. So yeah soft tissue damage. It's not horrible but the treatment is gonna be hard. 1 month of stall rest and hand walking and grazing. (yanno while she loses her mind) then 1 month of walk/riding and shes gonna have to be aced for that cuz no trotting, no leaving the ground and catching air or we're back to square one. Jez is good for about 2 weeks on stall rest then she starts to be hard to handle on the ground. I'm not sure how long my hand is going to be in recovery, i'm getting surgery today so i'm going to have to enlist help… lots of help. I'm sad because I had just gotten the new semi private paddock and now… stall rest. My vet is pretty flexible though and theres some possibility down the road that i can ace her and put her in a small hospital paddock and watch her to make sure she doesn't freak out and screw up all the hard work.
So the thought is that she's back sore from the soft tissue injury, and that's why she bucked me into the hospital. Jez gets a pass it's not that she decided to be a really bad horse it's that she was hurting. I do need to get back on a horse though as soon as i'm cleared to ride, maybe i'll see if someone at my barn will lend me a pony. I don't want this fall to shake my confidence and i think getting on board as quickly as i can is imperative.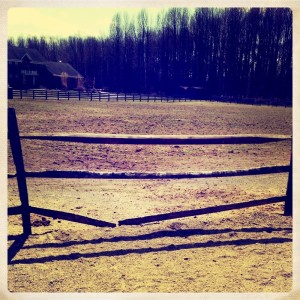 The pin is being put in my broken finger today and my back is still pretty jacked up. Though I am walking around a little bit. I'm nervous about the pin and i'm not sure how long the recovery from that will be, I guess I will find out in a few hours. My head is surprisingly hard and though it has a huge bump on it and hurts when i touch it,  i don't have much of a headache. I am going to look into getting a different helmet. I like the one i have, its lightweight and i thought it fit well but sliding forward ever so slightly while I was getting bucked off left just enough space for my head to make contact with the fence, which could have been really, really bad. I was lucky, though right about now with the pony being on stall rest and me about to go into orthopedic surgery, i'm not feeling so lucky.